Business Activities
We provide products that other companies cannot imitate. We also provide high quality products manufactured by high quality control. To meet customer's requirements, we strive to overcome any obstacle. We provide display units and indicators that have very unique features. We also provide complicated silk-screen printing products such as light guide plates, diffuser plates, and polarizer plates, which are all designed, developed, and manufactured by our company. And we provide joyful and colorful products used for events and festivals. We provide water-soluble paper lanterns that have been originally developed by us, Buddhism rotary lanterns, festival lanterns, and various fancy strips.
Display Segment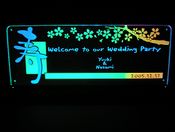 We provide LED indicators, backlights (area light source), electronic control boards, and housings. Our light-up displays and variable indicators realize excellent surface effects without loosing reliability and productivity.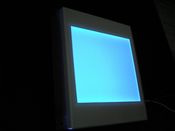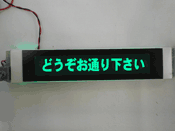 ■Light-up displays
■LED units
■LED displays
■Indicators
■Electronic control boards
■Housings made of metal plates or plastics
■Assembly of various units and parts
Silk screen Printing Segment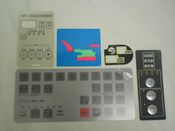 We can print a track of 0.1 mm width and our alignment accuracy is less than 0.1 mm. Printing processes need high accuracy. We produce and supply various precise products in a short term, keeping high quality. When our printed functional plate is put over low-priced color LEDs, the LED light, passing through the plate, turns to white light, without loosing brightness. We also print patterns on an LCD glass plate, keeping printed thickness less than 0.2 mm. We do full-color printing, using four colors. Our original light-up display uses an acrylic plate on which special printing is applied. When cating light through the side of the acrylic plate, the light-up display brights beautifully.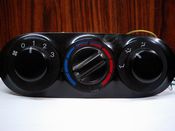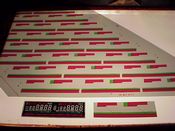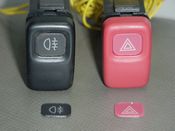 ■Automotive heater panel
■Automotive switch panel
■Polarizing plate
■LCD color filters
■Diffusion board
■Sheet switches
■Light guide plates that guide LED light and other lights
■Special paste printed products
■Products printed on plastics (PET, polycarbonate, acryl, etc), glass, and metals
■Other various printed products
Festival and Event Products (Various Lanterns and Fancy Strips)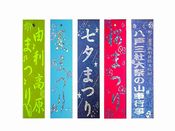 We manufacture water-soluble floating lanterns, Buddhism rotary lanterns, festival lanterns, lanterns for seasonal events, and fancy strips. We are always improving our products based upon customer's requirements in consideration of easy-handling, safety, and eco-friendliness.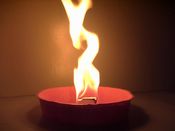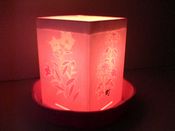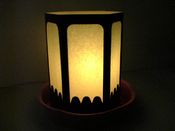 ■Water-soluble floating paper lanterns
■Buddhism rotary lanterns
■Non-soluble floating paper lanterns
■Portable lanterns
■Festival paper lanterns
■Fancy paper strips